Exhibition News –  Nicky's Flying Solo this May!
by Derek Lee 
Make sure you drop in to Nicky Shelton's Solo Exhibition, it is a visual feast for Art Lovers and Bird Enthusiasts!
A BIRD'S PERSPECTIVE.
Opening Night: Friday 11 May, 2018 – 6.30pm to 9.00pm
Exhibition Hours: Saturday 12 May & Sunday 13 May – 10am to 5pm
Venue: The Rose, 78 Stirling Highway, North Fremantle, Western Australia
Google Maps –  https://tinyurl.com/yaa5x9na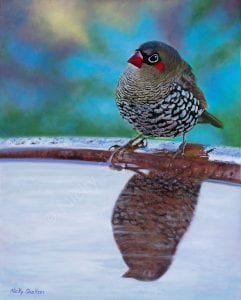 "Rudy's Reflection", Nicky Shelton, Oil on Canvas, 2017
"If you have the time to sit a while and observe the beauty of birds, you will be amazed at the colourful detail that fills their feathered coats Australian artist Nicky Shelton has that wonderful ability to bring that beauty in all its glory to the canvas." artbaazar.com
Nicky Shelton
THE ARTIST
Nicky Shelton is a Western Australian artist who embraced the journey of fine art after giving away a successful corporate career in 2012. Australian birdlife is what ignites her passion to paint in oils, capturing the unique charisma and personality of each feathered subject she gets to know.
Learn more at https://artbaazar.com/blogs/news/getting-to-know-artist-nicky-shelton-and-her-artwork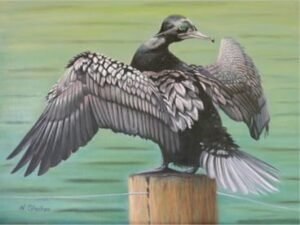 "Dillon – Little Black Cormorant", Nicky Shelton, Oil Painting, 2016
Nicky has been quickly recognised as an up-coming talent, being a jury selected finalist in prestigious 2017 art awards. These include the Cliftons Art Prize (Asia Pacific), Holmes Art Prize for Excellence in Realistic Australian Birdlife and the MidWest Art Prize.
She is an advocate for conservation and supports Birdlife Australia to protect Australia's threatened bird species – of which she says there are too many.